Artarc presents designed objects in limited editions by artists and architects.
These unique designs are available through artarc. Our introductory presentation are two chairs by  architect Steven Holl.
His dossier is accessed at http://www.stevenholl.com/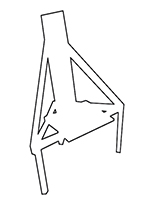 "A" chair,  1980, This original Steven Holl design was made for the exhibiton "pamphlet architecture reading room" which opened in NYC in Sept, 1980 and included original pamphlets and chair designs by Zaha Hadid, Mark Mack, Lebbeus Woods, etc.  The reproductions are signed and dated by Steven Holl  in verso.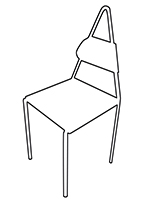 "A2″ chair, 2013 this original Steven Holl design  made for "T" space, Dutches county, NY is available in black painted steel &carved oiled cedar, or natural brushed aluminum & carved oiled cedar.  The chair in aluminum is considerably lighter.   These stacking chairs can store in stacks of 4  and are durable for exterior use.   Each chair signed by Holl  in verso.